*If you haven't heard, Isaiah Washington and Yvette Nicole Brown are going at each other via Twitter over politics and it's getting really nasty.
It jumped off when Brown, 48, called Washington in the wake of his signing up for an upcoming series on ultra-conservative Fox Nation.
"Did I call this or what? Not even surprised that this particular dude said yes to dancing w/ the alt-right. Black voter disenfranchisement is on the menu for sure! Remember children, all money ain't good money & not all skin folks are kin folk," was Brown's initial salvo in their skirmish as she alluded to his new TV gig.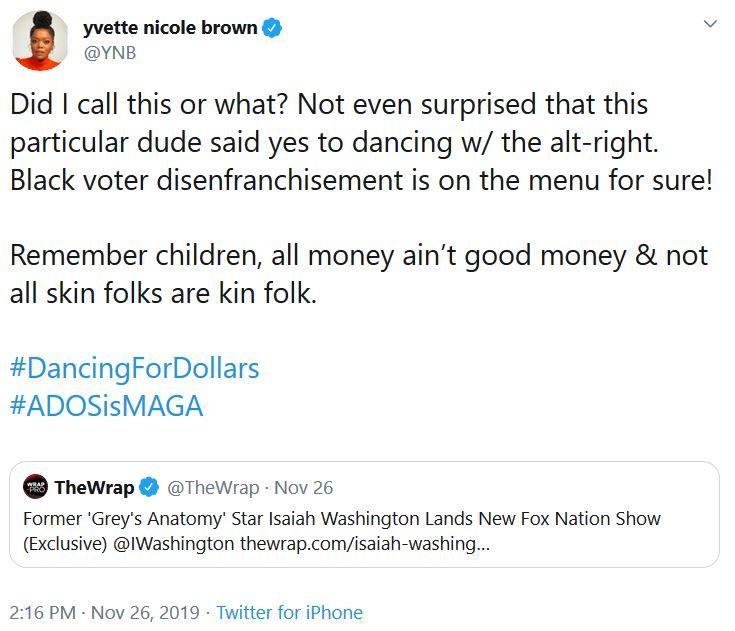 On Thanksgiving Day Washington, 56, responded by accusing her of "dancing for dollars" for "Walt Disney, a KNOWN RACIST," by joining the live-action remake of "Lady and the Tramp." Alrighty then! He also claimed that she called him a "coon," which the actress denied in another tweet.
"When did I call you a coon @Iwashington? I mean we all KNOW you are, but I never called you that," she wrote, before unapologetically adding, "What I WILL call you is a fool thinking @foxnews & the racists who run it give a damn about you. You are being USED to thrown shade on MY people. You are not kin."
"Be careful chasing clout and dirty dollars @IWashington That has historically not worked out well for you," she added. "As for me, I sleep well at night and stay working in my CHOSEN field. How 'bout you, boo? When you quote me on your little show quote it ALL & spell my name right."
Washington's comeback was to say the "Community" actress miscalculated her anger at MAGA.
"You are a fool. Stop," he told her. But she refused to stop just yet, hitting back at Isaiah, "You also don't know me. You should google who you're coming for. You don't want this smoke. That I promise."
Washington took another shot at Brown by referring to her as "a TROLL" and "unemployed." Addressing his upcoming Fox Nation series, he stated, "Listen, my show on @foxnation is NOT a political show, it's a UNIFIER, so if you want to continue to attack me for doing MY OWN show then that's on you. This will be my final outreach."
Definitely a messy situation. Thoughts?