UPDATE: A$AP Rocky has been released from jail while the judges in his Swedish assault case decide his fate. The announcement in court was met with cheer from onlookers.
The rapper is free to leave Sweden while they await a verdict, which is expected August 14. The other 2 defendants are also released and free to leave.
Prosecutors had asked that Rocky, who's spent a month in jail, remain there because he was a flight risk, but the judges disagreed. One might wonder why this is happening. It appears it's because judges don't think he'll be found guilty.
And of course, you know the orange a-hole in the White House didn't miss the opportunity to insert himself into the story: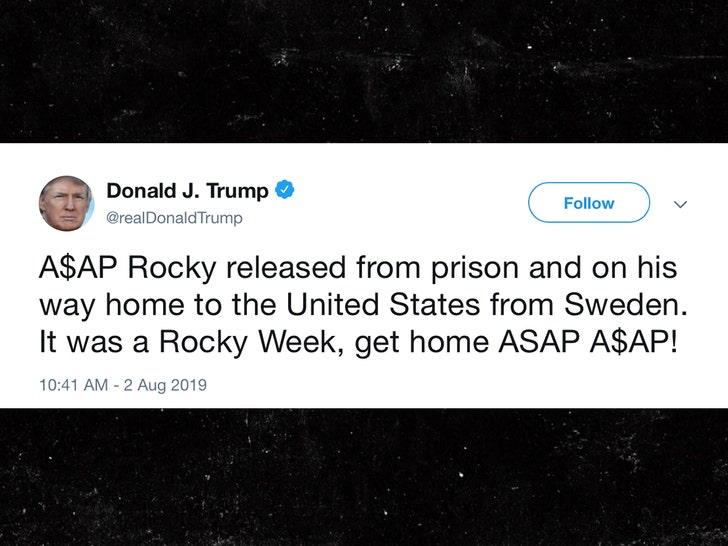 Earlier this was reported …
A$AP Rocky Trial Update: Swedish Prosecutor Calls for 6 Month in Jail for Rapper
*Here's the latest info in the A$AP Rocky trial in Sweden. The US-based rapper and two of his associates have been recommended for six months sentences by the prosecutor in the case.
The prosecution is going after the plaintiffs with the sentences for throwing a 19-year-old man to the ground and kicking and punching him after an argument in Stockholm.
A$AP Rocky, whose real name is Rakim Mayers, along with the other two men, has pleaded not guilty. The rapper told the court on Thursday that he had acted in self-defense after his bodyguard was attacked.
"Things got a little weird. We thought that the behavior of these guys was strange, it got a bit scary," A$AP Rocky, whose real name Rakim Mayers, told a packed courtroom.
"At this point, we are really scared. I saw my security guard being cut, bleeding. We didn't know what to expect with these strangers — I'm not from Sweden, so it was really scary," the rapper said.
"I wanted to go straight to the hotel for safety. I didn't want this to happen," he added. "We had no clue where we were, we just knew we weren't close to the hotel."
"I was scared and we were in defense mode," the rapper added later, during cross-examination by the Swedish prosecutor. "You've got to realize that my life is very, very particular," he said. "We're in a foreign country. We're approached by two strangers with aggressive behavior."
ASAP Rocky in court, in drawing form, day two. He's in green again. pic.twitter.com/J6fQ6dbpcR

— Alex Marshall (@alexmarshall81) August 1, 2019
He added that he suspected the man was under the influence of drugs, and that he and his entourage attempted to walk away but were followed by the man and his friend. You can listen to his testimony via the player at the top of the story.
Apparently, A$AP's testimony didn't persuade prosecutor Daniel Suneson because in his summarizing argument he said the actions on June 30 of the three accused could not be seen as self-defense.
"We have three people who throw out punches and kicks against a person who is lying down," he said.
"Their violence is clearly indefensible."
Those can't be comforting words to A$AP Rocky.