The Real's Tamara Mowry Housley's husband, Adam, has got folks on social media calling him a racist. Why is that? Well, he's accused of posting intentionally misleading info about South Africans on Twitter.
Yesterday, Housley, a former Fox News reporter, posted on Twitter about death and disease in South Africs, saying 1 million "body bags" have been sent to South Africa.
Housley also inaccurately stated that 8.5 million people in the country have "AIDS" or "TB." Basically, he put up stats about people who have AIDS and TB and how the Coronavirus could cripple the country to, one assumes, explain why "he's worried."
MORE NEWS: Detroit Bus Driver Dies of Coronavirus Days After Complaining About Coughing Passenger in Viral Video (Watch)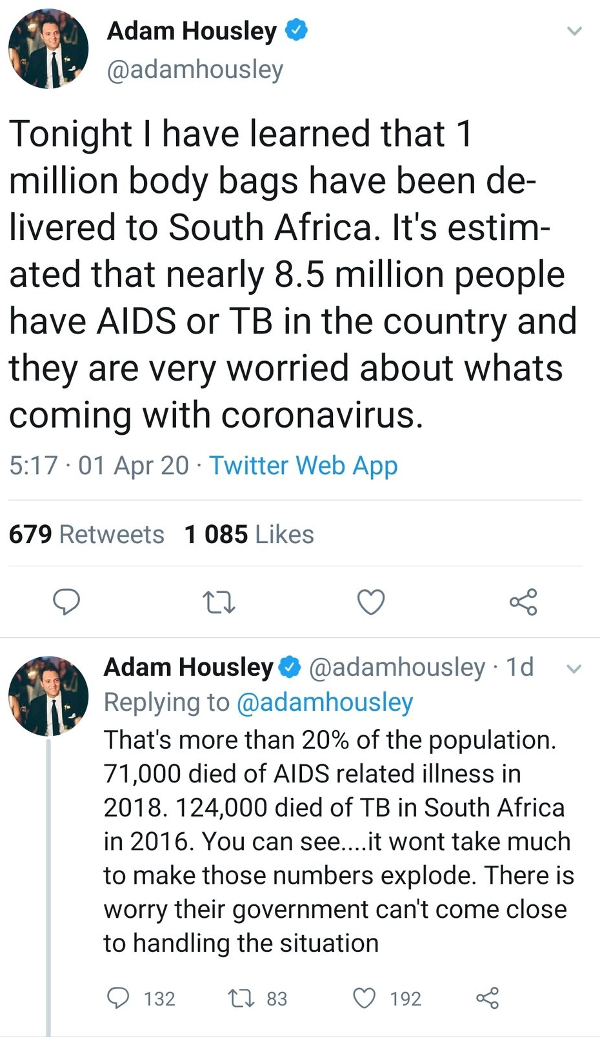 It must be noted that South Africa has been fighting the spread of HIV for years, but the incidence of AIDS in the country is nowhere near those numbers. Further, because of new medicines, living with HIV is no longer a death sentence.
To put things in perspective, sa black person in South Africa is 50% LESS likely to contract HIV than a White gay or bisexual man in the United States. And less than 5% of those infected with HIV in South Africa, have their disease progress to AIDS.
Needless to say, Adam's tweets rubbed some South Africans the WRONG way. They said he needed to stop spreading "fake news" and worry about what's going on in his own backyard (the USA) and leave SA alone.
I'm sure others in other parts of the world would throw the world's biggest After Tears party as soon as they see Africans dying like ants! If this isn't some anti-African hatred, I don't know what is. Adam Housley o bua his BALLS! pic.twitter.com/KImNL0OUvU

— Akanyang Merementsi (@AkanyangM) April 2, 2020
Adam, South Africa has had 5 deaths thus far. If any country needs those body bags it's yours. Leave us alone and focus on your own corona virus mess.

— miss vanjie (@taahira_k) April 2, 2020
Someone please come an collect Adam Housley. He's outchea spreading fake news; basically salivating at the thought of South Africans dying and clearly thinks that "HIV" and "AIDS" are synonyms. Tell this man to keep SA out of his mouth. pic.twitter.com/tzCRcvbExP

— Slice of life (@resting_nice) April 2, 2020
Put it this way. Adam Housley's comments are in line with many open racists in South Africa, who post misleading numbers – and then blame the "Black" government of not being able to run effectively. Those racists hope to undermine the government and have the country return to White rule.
But that didn't stop Adam from putting out the intentionally misleading information.