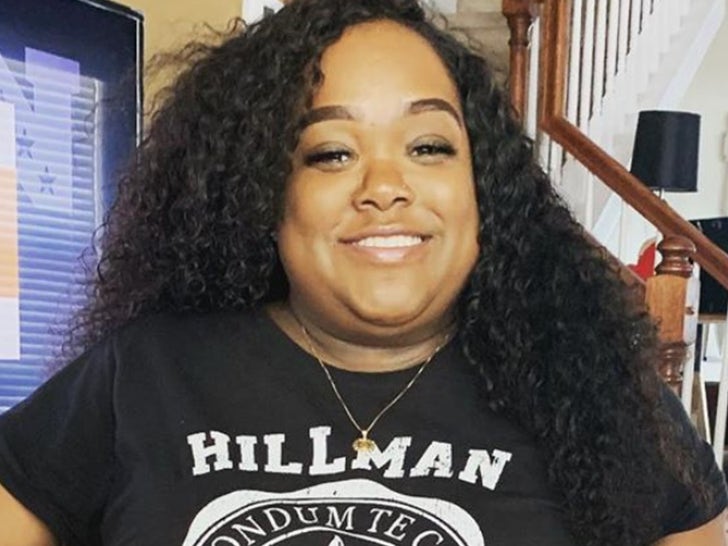 *Authorities have determined that TV star Ashley "Minnie" Ross from the show "Little Women: Atlanta" was at fault in the car crash that took her life at age 34.
Ross was reportedly operating a vehicle that hit another car near Old National Highway in the ATL last month. She died nearly 24 hours after the incident.
"It is with profound sadness that we confirm on behalf of the family of Ashley Ross aka 'Ms Minnie' of Little Women Atlanta has succumbed to injuries from a tragic hit and run car accident today at the age of 34," her management team confirmed on the star's Instagram. "The family respectfully asks for their privacy as they grieve during this very difficult time."
The crash report obtained by TMZ on Wednesday states that Ross lost control of her car and went off-road briefly before colliding with another vehicle in the opposite lane. She was reportedly unresponsive on the scene, and no drug or alcohol tests were administered to either driver, per PEOPLE. 
OTHER NEWS YOU MIGHT HAVE MISSED: New Mother's Day-Themed RED TABLE TALK featuring Sandra Bullock is Ready Now – WATCH
A spokesperson for the Fulton County Medical Examiner's office tells PEOPLE, "Ms. Ross was hospitalized at Grady Memorial Hospital and her injuries were documented by both imaging studies and surgery. She did not undergo an autopsy or external examination at the FCME. There will not be a written autopsy/examination report. Her cause of death will be related to blunt force injuries incurred as a result of the motor vehicle accident once the Grady Memorial Hospital medical records are reviewed."
Last week, the City of South Fulton Police Department issued a statement about the April 26 accident.
"The initial crash investigation shows that Ms. Ross was traveling south in a Nissan Sentra on Old National Highway," read the statement. "Her car hit the right-side curb, crossed into the northbound lanes and struck a Ford Focus that was traveling north head-on. Ms. Ross received serious injuries and was transported to an area hospital for treatment, where she died Monday night. The driver of the other vehicle received minor injuries and was treated at the scene."
Ross' family will hold a memorial for the reality star on Saturday(May 9) at 1:30 p.m. ET, with a "celebration of life" streaming live at msminniemedia.com.  Check out the announcement via the Instagram post above.